you have fewer than 2 seconds to make an impression
Get your free report:
3 Secrets to Your Speaking Success Now!
Get alerts on posts, tips, webinars and courses.

We value your privacy and would never spam you
Business Breakthrough Coach &  Presentation Skills Specialist
I'm Adria Firestone, a business coach with a specialty in presentation skills. What do you need? Are you starting a business, growing a business, or a CEO who wants to command a boardroom with authority?  Sign up for a Business Breakthrough Session or a Presentation Consult below. I look forward to talking with you.
Adria has been my business coach for approx. two months. Adria understands the complexities of being self-employed. She has an outstanding ability to listen, hear and pinpoint the areas that need work. She has held me accountable on some critical issues and I have executed all of my urgent issues with her help and guidance. Kind, funny and lovingly brutal, Adria is moving me to the next level in my career as a Realtor. I would recommend to her anyone looking to simplify life, work more effectively and ultimately achieve your personal goals. Consistently on time, on point ..great follow -up...exceeds my expectations.

Nicola Wynne Gold Level Realtor
Coaching with Adria has helped me immeasurably in clarifying and identifying my goals and priorities. Adria has great listening and observational skills that cut through the surface noise of our lives. She asks key, subtle and gently probing questions that help you identify for yourself what it is you truly feel at a much deeper soul level. I remember the the amazement and lightness I felt when I realized I wanted something much different than what I had been telling myself and others. I landed a key interview with a world-renowned ecologist only 10 days later for airing on my new radio show. Thanks Adria, for your keen ears and your exceptional skill set.

Diane de Zylva Healer | Voice Actor | Producer
A Life-Changing Book & Journal
Each lesson in Adria Firestone's  You Are the Artist of Your Life is a key to unlock your real self. The short chapters and the included journal, give you tools to shape your life, lift depression and soothe your soul. You truly are the artist of your life: make it a masterpiece.
I never thought about myself as an artist, until now. This is a book about looking within yourself and realizing every day gives you a blank canvas and all the paint and brushes you need to create your own artwork/life.
Amazon 5 Star review, Spencer, Vermont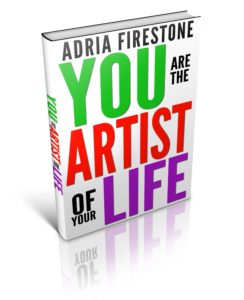 Contact the Charisma Expert Now! Call Adria @ +1 862 397-3254