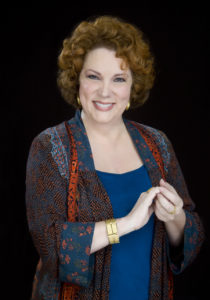 Known as a creative force and transformation specialist, Adria Firestone has worked with clients around the globe for more than 20 years. Adria is a leading consultant for presentation skills, strategic communication, and personal and professional development. She has decades of performance, media experience and coaching the vocal, visual and verbal aspects of presentation.
Adria is a speaker and author.  She is a contributor to The Huffington Post and presents seminars, and keynotes on excellence and leadership. Adria has been on the faculty at New Jersey City University since 2003. She teaches voice, presentation skills, and the business of show business. As an instructional designer, she has created and presented programs for, among others, Duke University, the National University of Singapore, Dubai English-Speaking School and Northwestern University.
Fluent in three languages, Adria was an award-winning opera singer and actor for 25+ years. Her credits range from her world-renowned Carmen in Bizet's opera to Family Guy. For our troops in Desert Storm, from Shanghai to the Pacific Rim and from Cairo to Canada, Adria has performed throughout the world.
Get Your Copy Now
Each lesson in You Are the Artist of Your Life is a key to unlock your real self. The short chapters and the included journal, give you tools to shape your life, lift depression and soothe your soul. You truly are the artist of your life: make it a masterpiece.
I never thought about myself as an artist, until now. This is a book about looking within yourself and realizing every day gives you a blank canvas and all the paint and brushes you need to create your own artwork/life.
Amazon 5 Star review, Spencer, Vermont
You are inspiring, insightful and this was one of the most exciting afternoons I have ever spent!

Delta Airlines Group,

Live At Lincoln Center
You have a powerful presence. Well-crafted, creative and challenging questions helped us implement your system for clearer communication.

Lion's Club, Ponce, Puerto Rico
Your coaching transformed me. I had new confidence and rocked my presentation. Our work allowed me to be my best with my sound, my appearance and a well of calm inside. I have never felt that way before. I got the account!

Kathleen N., Business Owner
Adria, you helped me get still! I lost the fear. You helped me choose colors and lines that made me feel tall and powerful. I'll never be the same. Thank you.

Patricia S., Sydney, Australia